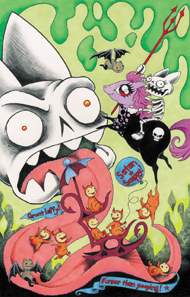 The Cast
From SlaveLabor: They're happy! They're dead! They're Skelebunnies! This brother and sister bunny duo were once living, giggling bunnies - now that they are supernatural horrors, they're giggling even more! Watch as they horrify the creatures of the forest with their strange and inappropriate behavior. See Satan try to bring the Skellies to the dark side - are their attention spans too short to follow him? By turns silly and appalling, these tales will curl your hair AND your lips. The Skelebunnies four-page stories from the Stitch mini-series were the surprise hit of last year - now you can sit back and take offense at their antics for 24 pages of all-new material. Sure to appeal to fans of dark and tasteless humor, and filled with the silly and playfully ornate visuals that made Stitch such a treat. Fans have been asking for it, so don't be caught short-handed!
This first issue gives us the first glimpse of That's Heenie!, the tales of anxiety of the little "specially trained assistance pet", Heenie. Tasteless fun? YOU BET! Worth 2.95? FUFF YEAH!
"Funner than pooping!"
Here's a review from some website,
This is the cutest, yet most depraved, comic book you'll ever see. A demon vomits acid on two adorably cute bunnies, who become: Skelebunnies. A person falls into a rabbit's butt, the Skelebunnies play with a walking, drooling vagina, a Pretty Pony's head is roasted, and so much more. This is a must buy!!
Now go buy it!